ART on the Gallery
I brought all my wonderful gifted (by my dear daughter) watercolor supplies down with me to St. Croix last week.  I had some idyllic thoughts about gazing at the wonderful vistas and dreamily preserving the images in watercolor….  Especially with Deb here – she's practiced and skilled at drawing and such!
Well – all much easier said then done!  But what a FUN time!  We started very nervously – had to actually make an effort to "Do It".  The paper and colors and brushes are somewhat intimidating.  But again – What FUN!  We've tried to do at least one thing everyday.  I've found that the water is the most difficult so far.  I'm not very happy with either of my two attempts.  Otherwise I'm pretty surprised at how pleased I am with the results of my tries!  Keep in mind – I've not used watercolor before and I'm far from an "artist" of any sort.
What is most interesting is how Deb and I had the same topics – sitting side by side – and the results are in all cases very different in approach and in color use.  Very cool.
Deb's first attempt at the waterscape in front of the house: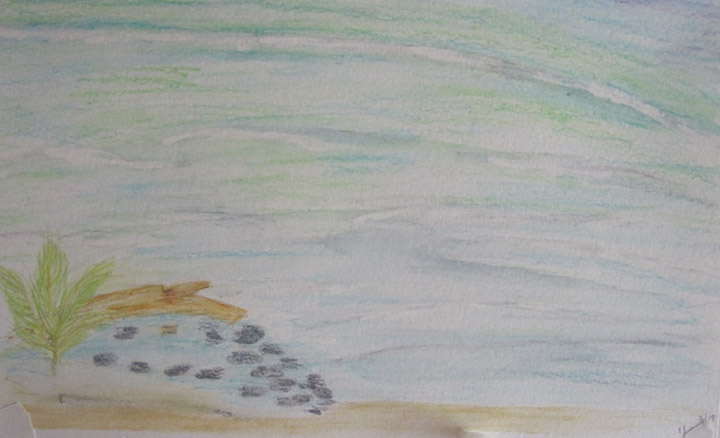 Deb's 2nd waterscape painting: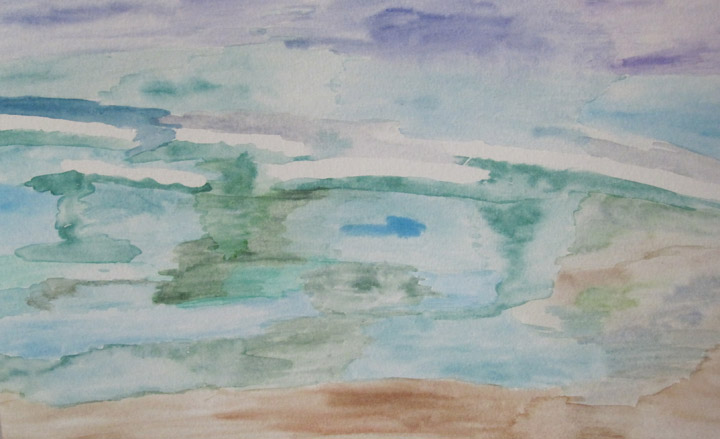 Now MY 1st waterscape try:
So that's the show folks.  I'm hoping that I'll still do this most everyday after Deb leaves!  It's most fun it seems because she is here doing this with me.