2009 – New project, new technique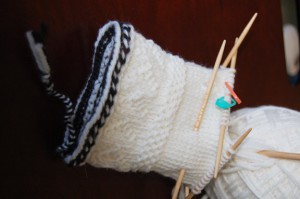 It's called "Twined Knitting" – a Swedish method of knitting.  I found the pattern (Larus & Ardea) on Ravelry (ravelry.com) by Spinnity – and the technique was detailed at Knitty.com by Teresa Vinson Stenersen.  It sounds complicated and looks impressive – but has been pretty easy to follow along (thanks in large to a very well written pattern!).  The fabric as I knit is very cushy/thick.  
Happy New Year!  We've been home.  Hannah is home too (heading back on the 10th).  We've kept things pretty quiet – and that's just fine.  We are contemplating the best approaches to rebuilding our front porch/stairway.  I would like to make a small deck out there – the streetside of the house benefits from a lot more sun and a lot less wind than the ocean facing side of the house.  I'm hoping to get to this in the 1st part of 2009.  …. and if wishes were horses…..  !
We're all three off to MacWorld on the 6th – Jerry's coming along with us.  We're wishing Tim were here too!