The Big Trip: day 5 (Feb 5)
Thursday, Feb 5th – Florence AZ to Tucson AZ
A short drive this morning from Florence to Tucson – we dropped Andi at DOGMA Dog Day Care (fantastic place!  Highly recommended!) so that she would enjoy playing with dogs as we scooted from one Gem & Mineral Show to another.
That's what the Tucson Gem & Mineral Show is all about.  All these pretty incredible venues all across the city with massive amounts of incredible stuff.  From diamonds and gold and silver to dinosaur fossils to Indian and Thai clothing and knick-knacks.  Wholesal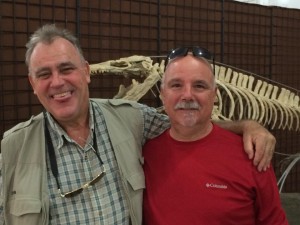 e and retail.  It's amazing.  We hit 4 shows today – JOGS, Beads at the Doubletree, 22nd Street Show & Kino near the hospital.  Tomorrow we hit the city center shows.  Ted has a book signing he wants to attend.
We have met up with Pim and Tim (Ted's brother and his wife).  Pim is buying for her shop in Ft. Lauderdale so we get to tag along.  Or run along as the case may be….  She's fast.  Covers a lot of ground!