The Big Trip: day 1 (Feb. 1)
San Luis Obispo to Las Vegas.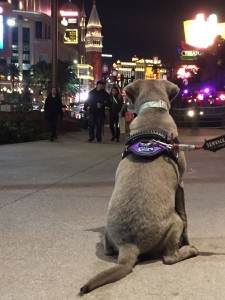 We left at noon.  Andi and all her supplies.  All the fossil gear.  All the stuff Ted may need for work in the next 3 or 4 months that needs to get to St. Croix…  Lots of logistics and planning.
It was a great day.  The drive was easy and fun!  We made it to the hotel and then to Table 10 for our dinner reservation on time.  We had a great tasting menu with wine pairings.  Delicious and decadent.  Lots of fun!  After dinner we took a stroll down the strip – Andi not so sure about all the lights and noise and especially the escalators!