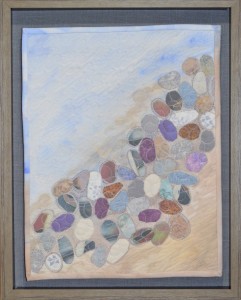 Pebble Mosaic – Living on the beach, either California or St. Croix means I've collected quite a lot of beach pebbles over the years!  Often as I am walking along for some reason I am inspired to pick up a special pebble.  It is usually deposited into a potted plant at home or a jar or the garden.  I find beauty in what the oceans wash ashore.
This piece is made of cottons and hand painted silks.  The background was handprinted and then the pebbles were appliquéd into place.  Silk chiffon is layered over that.  Machine quilting is used overall to give the feeling of the water's influence.  Then the "mosaic" affect is applied by very heavy hand quilting with silk threads all among the pebbles.
This piece was shown in the Los Angeles Quilt Show and Fiber Art Festival, 2016.
It is offset on the background and framed with no glass.