Life with Frank
Does this have anything at all to do with "making" things? No. Long before adopting a 'rescue' was a thing we all had cats. A cat from someone's farm, or someone's cat had kittens, or a cat just adopted you. Both my married family and my childhood family – we've always had cats. Some more dear than others, of course.
Then the unthinkable thing happened… we were only living with one cat for a time. But he was the best cat who we had ever lived with. He just was. And he was killed. Tragically. We were years without a cat. It was still just too painful.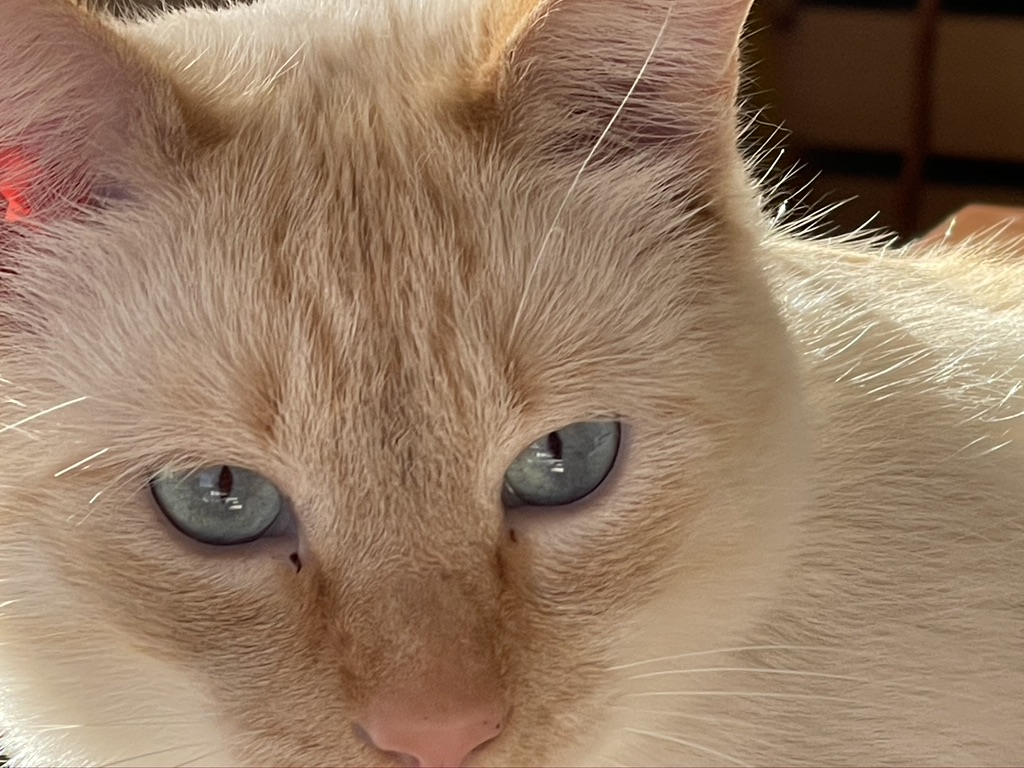 Then we saw Frank on a social media post.  And we immediately said – he's ours.  We applied and got him from a rescue.  He was about 1 year old (guessed) and his past was not clearly defined.  They called him "Sinatra" from his very blue eyes.  We changed him to Frank.  
I think Frank was feral from not long after his birth. He clearly exhibits many behaviors that suggest he never had a mama's love or discipline. He's way too 'sharp' with teeth and claws. He has emotional overload with very little stimulation.
We have amended his name: Frank 'Richard' Sinatra. Because he can be a Dick.
He's been with us for a year. And the changes since we first got him are remarkable. He seeks out attention. He sleeps with us every night – touching and amenable to movement by his 'host'. Lately he's been jumping onto our laps! For short periods of time – and very occasionally for an hour or so!
He does, however, earn his middle name. Like a three year old child when you get on the phone – gravity checking every item on the counter. Shredding a random piece of paper. Leaping at the dog from around a corner. I once had to get a check from someone replaced: "The cat ate it!"
He seeks out interaction and attention – but often it turns to a bite or slash when he just can't handle it. He's gotten better. But he still does it.
Amazingly – he does not shred furniture. He did however, take out the bottom of every screen door on our St. Croix house… we've ended up having to block off the bottoms of all of the sliders with cardboard and duct tape. Original décor style! Even after installing a cat door in one of the slider screens so he could access the gallery at will…
From time to time I may talk about him – I wanted you guys to know him. We are hoping that the encouraging signs we see in him continue to develop and he turns into a less sharp friend… Just this morning he came up to me and just pressed into my legs. (It was still a little much to be picked up and actually cuddled….) He clearly loves us and enjoys living with us.