Las Vegas to Page Arizona, Monday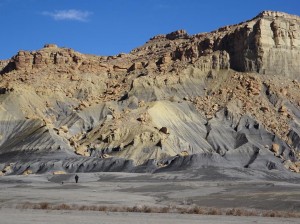 It's not a terribly long drive – we got to Big Water Utah around 1:30 – after a stop in St. George UT for socks (don't ask) and lunch from the market.  Another beautiful day.  Not warm – but sunny so it didn't feel cold.  Big Water is still the same as it was some years ago when we frequented it while working at the Dam.  Lots and lots of oyster shell fossils.  Ted found some ammonite fragments and a few other bits and pieces.  I mostly walked and enjoyed the wide open space.  It's kind of a zen thing.
Dinner at The Mexican restaurant.  There are two in Page – the 2nd one up the street – the one next to the Laundry Mat is the bomb.  Get the Cadillac Margarita.  It's all good after that!